HOORAY! HOORAY! IT'S THE STAN & OLLIDAY!
On 23 June 1947 - Stan Laurel and Oliver Hardy arrived at the Butlins Holiday Camp in Skegness, for a week-long engagement at the Butlins Theatre (later the Gaiety). Fast forward sixty-one years to Friday 23 May 2008 and members of the Helpmates UK Tent follow in their footsteps for a weekend of fun, aptly called a 'Stan & Olliday!' It was the idea of our host, 'A.J' Marriot, but, apart from the Stan and Ollie connection, was there another reason for him choosing Butlins Skegness? For the answer, we have to go back in time again - to 1973. If you holidayed at Butlin's Skegness in 1973 or 1974 then you may well have seen A.J there wearing a certain coloured coat! Yes, our very own A.J Marriot is a former Butlins' Redcoat, having worked two seasons at Skegness.
As well as this being a gathering of Sons, A.J had also been busy organising a reunion of other former Butlins' Redcoats from all of their holiday camps. One of the Redcoat Reunion party turned out to be of particular interest, but more of that soon! Another, would you believe, was actually called 'Mr. HOLLIDAY'.
The weekend got underway at 7pm with registration and wine reception. Sons had travelled to Skegness from across the UK including Kent, Hertfordshire, Dorset, East Yorkshire, Bristol, West Midlands, Derbyshire and Staffordshire. I was helping to meet and greet the former Redcoats, while the Sons were welcomed by Martin Kelleher, a former Redcoat who had travelled from his home in Norway - the maximum 'douze points' for that!! All the Redcoats took their turn to individually introduce themselves accompanied by huge projected photos of themselves in their Redcoat days, all emceed by A.J in his own inimitable and very enjoyable style.
Laurel and Hardy meeting some of the Butlins' Redcoats (1947)
(Photo borrowed from 'Hello Campers' by Sue Read)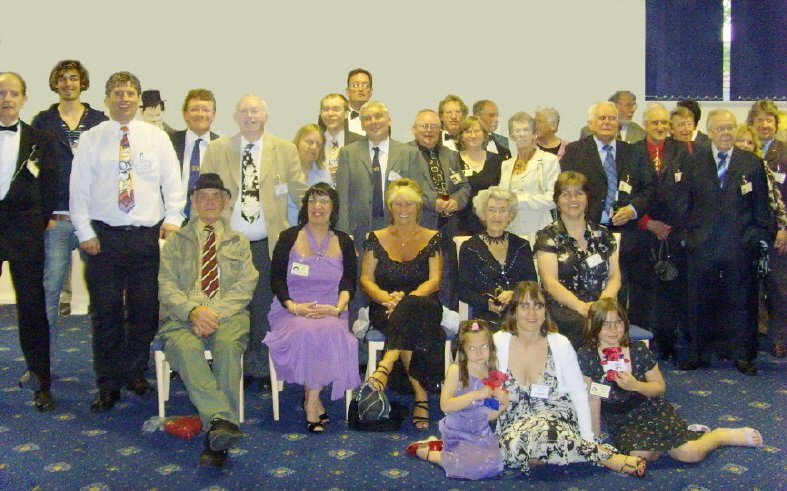 It's the turn of the Laurel and Hardy fans to
meet some of the Butlins' Redcoats (2008)
There were two Laurel & Hardy film shows on both the Saturday and Sunday, and it was good to see some of the Redcoats taking the chance to enjoy the films. The beauty of the weekend though was that everyone was totally free to do what they liked - within reason, of course! There was no obligation to attend any of the organised gatherings. Butlin's are well known for offering entertainment and attractions for all ages, so there was plenty to keep all occupied until the early hours! However, it was heartening to see almost the whole group of Sons and Redcoats meeting up together at various times over the weekend.
One such time was the Sunday morning when we all gathered in the convention room for a video presentation of the time in 1947 when Butlins Skegness played host to our friends Mr. Laurel and Mr. Hardy - and their wives. Apart from performing their show twice nightly, Stan and Ollie found time to judge some of the competitions held for the campers - the Holiday Princess and Knobbly-Knees contests, to name but two.
Laurels and the Hardys judging
the Kiddies Lovelies Competition.

No this is not a streaker.
It's the winner of the Knobbly Knees Competition

After the presentation, A.J led us all on Locations Tour around the camp, so we could see for real the key areas, with the help of 'then and now' photos. Although different now to what it was like in 1947, the shells of some of the buildings - Old Tyme Ballroom, Ingoldmells Hotel etc - remain today.
The Ingoldmells Hotel as it looked
when Stan and Babe stayed there.

The Ingoldmells Hotel as it looked when
visited by fans on the "Stan & Olliday."
Rob & Gill Lewis, Dave & Denise Tomlinson, and me, Howard Parker,
following a lady on the Ramble who's turned to ice in the Arctic wind.
With Sunday afternoon being a choice of more Laurel & Hardy films or freetime, we went our separate ways until the Sunday evening when we all met up for one last time. This gave me the opportunity to have a chat with the aforementioned former Redcoat of particular interest. In 1945, a young girl wrote to Mr. Billy Butlin asking for a job. She had previously been studying to be an analytical chemist, but unfortunately burnt her hand rather badly one day, so changed her choice of career to teaching - Maths, English and Athletics. Fortunately, Billy Butlin offered the 21-year old a job as a receptionist at the Butlins Skegness resort. Two weeks into her new job, the entertainment department requested that she join them as a Redcoat.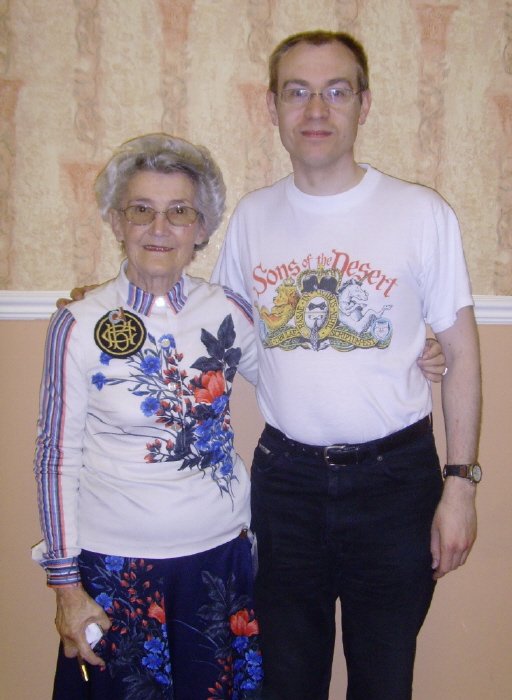 WHEN HERI MET HOWARD
This is the delightful Heri Harrison herself, who
met Laurel and Hardy at Butlins Skegness,
when working as a Redcoat there in 1947
- posing with me, Howard Parker.
Now 83 years old, Heri Harrison speaks fondly and happily of her time working at Butlin's. Also very fresh in her memory is that week in June 1947 which the Laurels and the Hardys spent at Butlins. Heri was also surprised to learn of the similarities between her reason for changing career and the reason why Stan Laurel was unwillingly encouraged to move from behind the camera to in front of it! (After Hardy had burned his arm on a leg of lamb.)
Heri remembers that the mood within the camp prior to their visit was one of excited anticipation. Although only in the company of Stan and Ollie for a short time (enough time to make the writer of this article jealous though!), Heri found them to be "so natural and so polite" and, even though they were "quite subdued," they came across as "perfect gentlemen and the total opposite to their screen characters." She had obviously seen their films prior to this occasion, but admits to not being a fan until actually meeting them. It was a pleasure to meet Heri who had travelled from her home in Norwich after learning of the weekend only five days before.
LAUREL & HERI
83 year-old Heri Harrison poses between
cut-outs of Laurel and Hardy.

HERI HORSE
This is how Heri looked in 1947,
when she met "the real thing."
On the Sunday evening, as this would be the last time we would all be together, the Redcoats took centre-stage to do what they must have done many times before and performed their 'Goodnight Campers' parade and song for the Sons of the Desert. The amount of time spent on rehearsals was clear for all to see!!!
Monday came around too quick and it was time to vacate our chalets ready for the next intake of happy campers. A huge vote of thanks must go to A.J Marriot for having the courage to organise the weekend, and it really was obvious that he had spent countless hours on preparing all aspects. Word has it that he has plans for other Stan & Ollidays, so be prepared.
HI-DE-HI!
Howard Parker
o-o-o-0-o-o-o
With thanks to HOWARD PARKER, long-standing member of HELPMATES UK
(of the Laurel & Hardy Appreciation Society) for compiling the above report.
And to Eve and Ray Allen, and Rob Lewis, for the above photos.
o-o-o-0-o-o-o