LAUREL and HARDY Books
Laurel and Hardy stage tours of England, Scotland, Wales, Northern Ireland, Republic of Ireland, U.S. American cities,
Caribbean Islands, Denmark, Sweden, France, Belgium, Italy - all fabulously detailed and illustrated in the books:

LAUREL AND HARDY - The British Tours - The US Tours - The European Tours
PLUS the Stan Laurel and Charlie Chaplin tours with the Fred Karno Company


3 February 2017

FEBRUARY SALE


Buy TWO books, together, and get £10 CASHBACK.

[Just pay as a normal transaction for the two, together, and I will refund you £10.]

GO TO: Bookshelf


Laurel and Hardy are undoubtedly the most famous and popular comedy double-act of all time, with well over three hundred solo and team films between them. But their comedy work wasn't solely in films. Before making films in Hollywood, Laurel spent several years working on the British stage and in Music Hall, followed by several more touring the United States of America in Vaudeville. Babe Hardy too had spells on the American stage early on in his career, as a singer.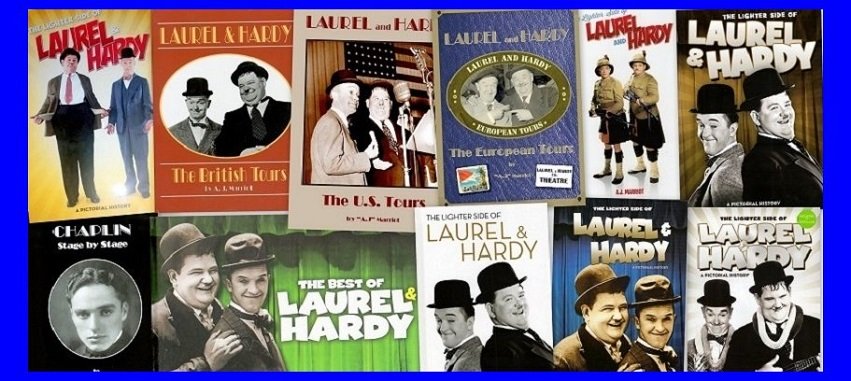 A.J Marriot has been a been a member of the world-wide Laurel & Hardy Appreciation Society, the

Sons of the Desert

, since 1981; and since 2001 has been the Editor and Features Writer of

The Laurel and Hardy Magazine

.

"A.J" Marriot is author of ALL the above books - and more.
to purchase copies of ANY of the books on this page,
SIGNED by the author - "A.J" Marriot -
click on the bookshelf banner:

In the early 1940s, the two comedians did three major American stage tours of USA cities, between making films for 20th Century Fox, and MGM. A fourth tour found them entertaining the troops on bases in and around the Caribbean.

And then, when Laurel and Hardy's screen career was over, Laurel returned Britain and the British Variety stage, and took with him his American partner, Oliver Hardy. This was quickly followed by two spells in Europe - one being a stage tour of Denmark, Sweden, France, and Belgium - the second being a year spent making their last film, Atoll K, in France.


And so what of the accounts of all the years these comic geniuses spent on stage? Where are they? Laurel & Hardy films have spawned hundreds of books and thousands of articles, but written work on Stan and Ollie's stage shows wouldn't fill one magazine, much less a book. Not, that it is, until along came the four books: LAUREL and HARDY The British Tours; LAUREL and HARDY The European Tours; LAUREL and HARDY The US Tours; and CHAPLIN Stage by Stage (which also details 'STAN LAUREL The Fred Karno Tours')

To find out more about the contents of the books:


click on the book covers.
LAUREL & HARDY
The British Tours
by A.J Marriot

Published 1993
ISBN 9780952130802
ISBN: 0952130807


HARDBACK – Dust-Jacket


316 pages – over 100 illustrations

LAUREL and HARDY
The European Tours
by A.J Marriot

Published 2014
ISBN 9780952130840
SOLD OUT

LAUREL and HARDY
The US Tours
by A.J Marriot

Published 2011
ISBN 9780952130826

ISBN 0952130823

Softback – A5 – 432 pages

– over 200 illustrations

CHAPLIN
Stage by Stage
by A.J Marriot

Published 2003
ISBN 9780952130819
ISBN: 0952130815
Softback – A4 – 256 pages
– over 130 illustrations

to purchase copies, SIGNED by the author, click on the bookshelf banner:
o-o-o-0-o-o-o